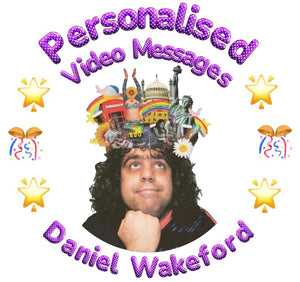 Personalised Video Message From Daniel Wakeford
Order a personalised video message from Daniel Wakeford.
These are perfect for gifts to friends and family or even if you'd like a personalised video message for yourself.
They are ideal for:
Birthdays

Anniversaries 

Weddings




Congratulations 

Exams
Pep Talks
Thank Yous
Special Occasions
Valentines Day
Mothers Day
Fathers Day
Christmas
New Years
And More!!
Video messages are on average up to 1 minute long. Please include what you would like your message to say in the Special instructions for seller box. (This box comes up when you add the item to the cart or press buy it now). This will help Daniel to give you the best personalised message he can.
Once recorded your personalised video message can be sent to you either via WhatsApp or email. Please include your preference and your phone number or email address for the message to be sent to.
Please include:
Who the message is from




Who the message is to




What the message is for (birthday, anniversary, occasion etc)




Interesting information (hobbies, hometown, interests, age etc)




Include the date of the occasion or birthday if there is one (Daniel will do his best to get it done on time for the date, however the sooner you order the request the more chance 

it gives for it to be received in time)



How you want to receive the video message (either via WhatsApp or email and include either your phone number or email address)
Example request:
 Sally's birthday is on 10th April and she will be turning 30 years old. Sally loves horse riding and camping and can't wait to go to America later this year. Her favourite food is macaroni cheese. Love from her mum and dad (Kerry and John). Please send the video message to me via WhatsApp, my number is 0712345678
Personalised video messages are usually recorded and sent within 7 days (timescales for these can vary depending on Daniel's weekly schedule and at busy times of the year such as Christmas the timescale can be slightly longer). Please include the date the video message is needed by and Daniel will do his best to record the video in time. The sooner the order is placed before the date it is required the more chance it will be able to be recorded and sent in time.

For personalised video messages, please allow for possible mispronunciation of names or words from Daniel. If there are any major errors in the received video, please contact us at info@danielwakefordmerch.com and we will do one re-record of the video message free of charge.